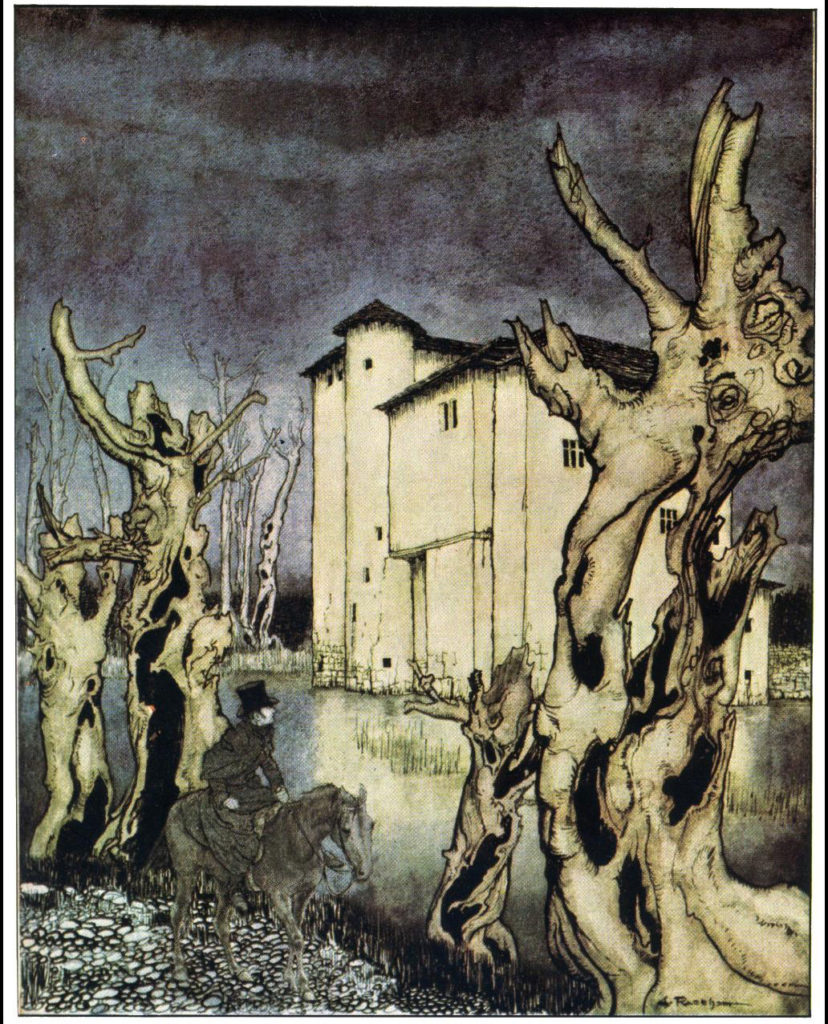 Top: Illustration by Arthur Rackham for The Fall of the House of Usher, by Edgar Allan Poe
This is a journal, and as such Poe's words hold a special meaning for me. Poe knew about loss, knew how to express it and his pain is cathartic to us still. I don't know why people seek out the painful in art, music and literature, but there's no escaping that conclusion.
The music for the song is based loosely on the Enigma Variations by Edward Elgar, albeit our own arrangement.
Poe never shied away from throwing light into his darkest thoughts. He did so poetically, with passion and though over the top by today's standards, his poetry in particular was a perfect reflection of the time.
Today we shy away from verbose, eloquent statements of feeling. Being emotional can be seen as a negative. Irony, sarcasm and quit witted statements are what sells in our culture. But we lose something along the way.
In this poem, Poe expresses loss clearly and succinctly. There are no wasted words, not unfinished thoughts, no bright light at the end of the tunnel.
As I said, this music is a journal, and at this moment in time, there really is no more fitting song than this to throw out into the world. When things feel this black, the thought we cling to is redemption still awaits somehow, in some way. We go clawing towards the light.
To One In Paradise
Edgar Allan Poe
Thou wast all that to me, love,
For which my soul did pine-
A green isle in the sea, love,
A fountain and a shrine,
All wreathed with fairy fruits and flowers,
And all the flowers were mine.
Ah, dream too bright to last!
Ah, starry Hope! that didst arise
But to be overcast!
A voice from out the Future cries,
"On! on!"- but o'er the Past
(Dim gulf!) my spirit hovering lies
Mute, motionless, aghast!
For, alas! alas! me
The light of Life is o'er!
"No more- no more- no more-"
(Such language holds the solemn sea
To the sands upon the shore)
Shall bloom the thunder-blasted tree
Or the stricken eagle soar!
And all my days are trances,
And all my nightly dreams
Are where thy grey eye glances,
And where thy footstep gleams-
In what ethereal dances,
By what eternal streams.